55th Class Reunion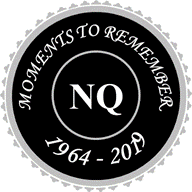 NORTH QUINCY HIGH SCHOOL
CLASS OF 1964
55th CLASS REUNION
Dear Classmates:
Plans have been finalized for our 55TH Class Reunion, that will take place this year on Saturday, September 21st from 5:00 p.m. to 9:00 p.m. at:
29 Hancock Street, North Quincy, Ma 02171
Appetizers will be served at 5:30 p.m., and will include a shrimp station, as well as scallops wrapped in bacon and beef kabobs, that will be passed around by wait staff.
Dinner will be served at 6:00 p.m. and will include three stations: mac and cheese with a variety of toppings, pulled pork sliders and BBQ chicken sliders with southwestern slaw and cheddar cheese.
Coffee, tea, brownies and cookies will be provided for dessert.
A cash bar will be set up in the entry way.
Cost per person is $60.
Dress casual!
To register for the Reunion, please send your check, payable to Paula Mazzone by August 31, 2019, along with the following information:
Your Name, Your Guests Name (If Applicable)
Your E-Mail Address
Paula's address is: 2 Northfield Road, Rockland, Ma 02370.
Members of the Reunion Committee will be on hand at 5:00 p.m. to greet and check in paid guests. (Sorry, we will not be able to accommodate guests who have not preregistered.)
We're looking forward to seeing you, and hope you'll join us again to reminisce about old times and renew friendships.
Your Reunion Committee,
Linda (Perry) Cibotti ~ Elaine (Cedrone) Egan ~ Virginia Garland
Diane (Mulcahy) Malmgren ~ Paula (Kelly) Mazzone
Jeanne (Santoro) Murray ~ Nancy (Hatfield) Savage ~ Ellen (Spring) Staff
Sandy (Leach) Volpe ~ Linda (Thornell) Wainwright
The Adams Inn has a free shuttle pick up and drop off at/to Logan airport and South Station. The hotel will provide a complimentary breakfast buffet on Sunday for guests staying at the hotel. They also have free WIFI.