55th Class Reunion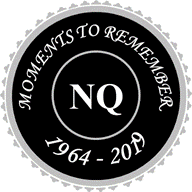 North Quincy High School Class of 1964
55th Reunion
Saturday, September 21, 2019
5:00 p.m. to 9:00 p.m.
Adams Inn, Quincy
Dress Casual
Cash Bar
Food will be served from 6:00 p.m. to 7:30 p.m.
At present, we are thinking about the following food selections: An assortment of Hors d'oeuvres, a Mac and Cheese Station with a variety of toppings, a Slider Station and...
Fifteen rooms have been blocked off for Saturday night (September 21) at the Adams Inn. Reservations can be made now until September 4, 2019. The room rate is $149, and breakfast is included with your room reservation.
To make a reservation, call the Adams Inn at (617) 328-1500, select option 5, and indicate that you are attending the NQHS reunion. If you have a problem, ask for Amanda, who is handling our function at the Adams Inn.
The price of the tickets will be decided after the New Year, and more details will be provided.