In Memory
Martin H. Casey (Teacher)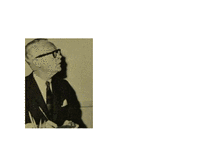 A funeral Mass for Martin H. Casey, 93, of Weymouth, a retired Assistant Principal and Guidance Counselor at North Quincy High School, was celebrated May 11, 2002, at Immaculate Conception Church in East Weymouth.
Mr. Casey died May 8 at Quincy Medical Center after a short illness.
Mr. Casey worked at the school from 1953 until his retirement in 1970. He taught at Mary A. Gallagher Junior High School in Leominster from 1931 to 1953. He also worked for the Massachusetts Department of Education's Division of University Extension as an organizer and teacher for several years.
Mr. Casey served in the Navy during World War II as a lieutenant commander in the Pacific Theater.
He was past President of the Leominster Teachers Association, Director and President of the Winchester County Teachers Association, Director of the Massachusetts Teachers Association, Treasurer and a scholarship founder of the Quincy Retired Teachers Association, and Vice President and Board Member of the Massachusetts Retired Teachers Association.
Mr. Casey was a graduate of Leominster High School. He received his Bachelor's Degree in 1931 from Boston University and earned a Master's Degree in 1936 from Harvard University, and a Master's Degree in Education from Fitchburg State College in 1949.
Born and raised in Leominster, he lived there 44 years. He moved to Weymouth 45 years ago.
Husband of the late Margaret (Haley) Casey, he is survived by a son, Martin H. Casey of Mercer Island, Washington, a sister, Louise Konkle of Savannah, Georgia, three grandchildren and 11 nieces and nephews.
Burial was in Blue Hills Cemetery in Braintree.