70th Birthday Bash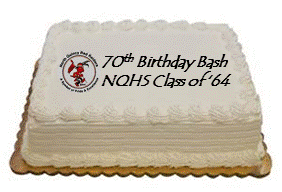 I'd like to thank all of you who were able to make the Birthday Bash last night. It was great seeing everyone, reminiscing about high school and catching up on our lives since the 50th reunion. You made it a successful and fun night!
And thank you to the classmates who came from out of state; your efforts to be with us were appreciated.
Also, thanks go out to the committee members who helped plan and execute the event:
Linda (Perry) Cibotti
Elaine (Cedrone) Egan
Virginia Garland
Paula (Kelly) Mazzone
Jeanne (Santoro) Murray
Nancy (Hatfield) Savage
Ellen (Spring) Staff
Sandy (Leach) Volpe
Janice (Nolan) Zellen
I'd also like to thank Bruce and Bea MacGregor, who couldn't make it, but made a generous donation.
Again, I hope you all had an enjoyable night.
Diane