In Memory
Peter J. Morris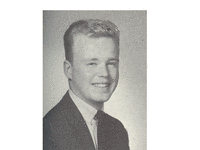 Peter J. Morris, 60, of Quincy, a retired paper representative, died July 14, 2005, after a long illness.
Mr. Morris served in the Army reserves for six years. He was employed at Century Paper Company of Boston and Randolph for 15 years.
He graduated from North Quincy High School in 1964.
He was a member of the Quincy Elks and enjoyed music.
He is survived by two daughters, Kristen Confalone of Braintree and Leanne Morris of Quincy; his parents, Charles J. Morris and Mary V. (Connolly) Morris of Quincy; a brother, Kevin Morris of Meredith, New Hampshire; three sisters, Patricia Goldman of Tewksbury, Mary Gustafson of Quincy, and Michelle Knox of Londonderry, New Hampshire.
A funeral Mass was celebrated at St. Anne's Church in Wollaston, followed by burial in Mount Benedict Cemetery, Boston.