May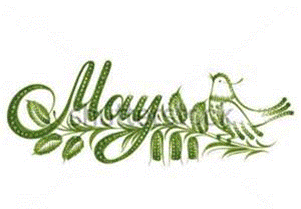 May is the fifth month of the year and one of seven months with the length of 31 days.
May is a month of autumn in the Southern Hemisphere and spring in the Northern Hemisphere. No other month begins or ends on the same day of the week as May in any year. This month is the only month to have these two properties.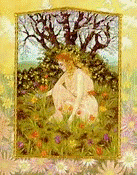 The month May was named for the Greek goddess Maia, who was identified with the Roman era goddess of fertility.

Emerald, the birthstone of May, carries the rich green color of spring and radiates a beautiful vivid tone. They are considered to be a symbol of rebirth and love.

The May birth flower is the Lily of the Valley, meaning of humility, chastity, sweetness and purity.
The zodiac signs for the month of May are Taurus

(until May 20) and

Gemini (May 21 onwards).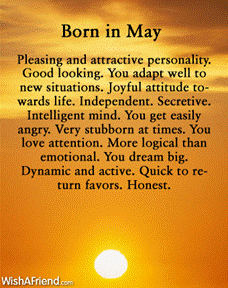 The month of May is the month of gardening, so get your trowel out and start digging.

The best way to garden is to put on a wide-brimmed straw hat
and some old clothes. And with a hoe in one hand and a cold
drink in the other, tell somebody else where to dig.
- Texas Bix Bender, Don't Throw in the Trowel
God made rainy days, so gardeners could get the housework done.
A man should never plant a garden larger
than his wife can take care of.
- T.H. Everett
May is Gardening for Wildlife Month. Attracting birds, butterflies and other wildlife is a wonderful way to make a difference right outside your door.
It all starts with the things you plant. When you create a wildlife-friendly garden, you'll be rewarded by knowing you're doing your part to help restore much-needed habitat. Imagine looking out the window into a landscape teeming with singing birds, colorful butterflies, pollinating bees, along with beautiful plants and water features that attract wildlife. It's easier than you might think.
All wildlife needs these four things to survive: Food, water, cover and places to raise young.
You don't have to rip out your entire landscaping or start a garden from scratch to create wildlife habitat. You're probably already providing some elements of habitat. Here are five easy ideas on how you can get started creating more habitat for wildlife in your garden.
1. Plant a shrub that flowers for pollinators and produces berries for birds and other animals.
2. Put out a birdbath. Even small water features will be used by wildlife.
3. Provide cover with dense shrubs, wildflower gardens, rock walls and evergreens.
4. Mount a nesting box for birds, plant host plants for butterfly caterpillars or install a frog pond as places to raise young.
5. Put away the chemicals. Natural gardens are better for you and your family as well as the wildlife.